Hello again! With promotion to Serie A in the 2024/5 season I think now is the perfect time for a detailed look back at how the save and Sammarinese football has progressed during my 6 seasons at the helm. If you want a more detailed look at each season the full series can be found here.
San Marino Calcio
This journey stared back in 2019 down in Serie D Group F of Italian football with a tough prospect in our first season as we had to win the league to gain promotion to Serie C. After a bit of a slow start where it took us three games to pick up our first win, we eventually triumphed to win the league by an impressive 9 points.
Key players for this campaign included top scorer Alessandro Scaletti and player of the year Riccardo Gaiola. Very few of this squad are still with the club given our rapid growth and key players Scaletti and Gaiola were both released at the end of the season. Scaletti retired in 2021 having never made another appearance for any other club and Gaiola refused to renew his contract before going onto play out the next few years for various clubs in Serie C. Interestingly, we won this league title exactly 20 years on from last time San Marino Calcio won it!
Notable Youth Prospects: Fabio Stefanelli (CB), Filippo Guidi (MR). Don't worry I'll come back to the youth prospects later.
Serie C
This promotion kicked off a three year stint in Serie C where we steadily improved year on year. Our squad underwent drastic change as we made a staggering 33 signings in our first season at this level with a number of players being released to balance things out. Of all of these players one stood head and shoulders above all the rest, (and he is the only one still playing for the club) Daniel Birligea. I went into a deep dive about his career in the previous season review so i'll not retread that ground again here, i'll give you the condensed version instead.
While looking for a striker I saw Teramo offering this wonderful specimen of a man out for loan and I was all too keen to snap him up for nothing.
In his debut season he scored a mighty 19 goals to guide us well away from relegation which saw us finish in 9th, good enough for a play off place in our first season. Unfortunately this was a step too far and we were narrowly beaten in the 2nd round by Cesena.
Notable Youth Prospects: Leandro (LM/RM)
An interesting aside of this season was Manuel Manari breaking the clubs record for assists in a season with 20. He then followed a club tradition of refusing to sign a new contract before retiring in his mid-20's having barely kicked another ball! The grass isn't always greener folks.
Next season we came back even stronger with Birligea renewing his loan spell and scoring an impressive 22 goals! Unfortunately some crucial defeats and slack defending in April cost us top spot in the league as we finished runners up by an agonising one point!
This put us in the play offs again where our improved squad advanced to the final where fate dictated we would play Cesena once again. Unfortunately our momentum was dashed as around 30 players at the club were called up for international duty on the date of the final, resulting in 12 of the usual match day squad of 18 being unavailable for selection. Eventually a team including a 40 year old Carlos Kameni, 41 year old Michael Mifsud and a number of poor quality youth players were defeated 3-2.
Notable Youth Prospects: Nicola Stefanelli (ST), Alex Vailli (CM), Andrea Casadei (CM), Jacopo Guerra (RB).
It proved to be third time lucky in the league as we permanently signed Birligea after his parent club were relegated and we further bolstered our squad with Sammarinese players such as Colombo and Nanni as well as some other great players like Monaco, Cambiaghi, Gori and Shala, all of which are still with the club in Serie A four seasons later! Gori even managed to unseat Birligea as the clubs top scorer for this season as we racked up a club record 92 points on the way to the title by a huge margin. I was relieved we didn't have to go through the play offs once again and we could add some silverware to our trophy cabinet! Our final act at this level was to win the Serie C Super Cup as we won this totally pointless trophy.
Notable Youth Prospects: None.
Serie B
2023 represented a season in the second level of Italian football for the first time ever as I expected a steady fight against relegation. Fortunately I was wrong. Club legend Birligea surpassed himself this season as he managed a phenomenal 25 goals and was backed up well by Gori once again to shock the league with a 3rd place finish, only three points off an automatic promotion place. This once again put us into the play offs for the third time in 4 seasons. Once again things went awry.
After reaching the final we came up against a very talented Brescia side as we fell to a narrow 3-2 defeat over two legs to give me a 0% win rate in play off finals!
Notable Youth Prospects: Lorenzo Bollini (ST), Calvin van der Neut (CM).
Our stunning start to life in Serie B was mainly due to the goal scoring of Birligea (25 goals) and the set up play of Cambiaghi (17 assists) and they combined again in 2024/5 to push us to even greater heights than the year before.
We overcame a somewhat underwhelming league to win the title with an impressive 81 points, somehow ten points clear of everyone else! The highly impressive youth player Bollini scored 9 goals in this promotion push while star striker Birligea eventually passed 100 goals for the club as he scored 24 in the season standing head and shoulders above everyone else in the clubs all time goal scoring charts.
This season was also notable for (so far) our best run in the Italian Cup as we beat a number of top flight sides to reach the Quarter finals for the first time ever, eventually losing 2-0 to Juventus!
Notable Youth Prospects: Nicola Muccioli (CB)
So there we have it a whistle stop tour of our journey from the bottom of Italian football to our debut in the top flight and it only took 6 seasons!
Our trophy cabinet has grown significantly during my tenure as we have won 4 trophies during my time at the club as we have won Serie B, Serie C/B and the Serie C Super Cup all for the first time.
The club leaders season on season. As a side note Birligea is also the closest to breaking the appearance record as he has currently played 190 league games for us, well on his way to becoming a club legend!
Although we have undergone rapid growth on the pitch, off it, a very tight financial situation has prevented much growth as we are still playing in the 5500 seater Stadio Olimpico di Serravalle in San Marino. Due to these tight finances we have only just about been able to improve the quality of youth recruitment and coaching during our second season in Serie B though this should rapidly change if we can stay up in Serie A next season which should benefit the national team.
Also why the hell is the national stadium in San Marino called the Olympic Stadium? There is literally zero chance of it ever hosting the Olympic Games no matter how picturesque it is……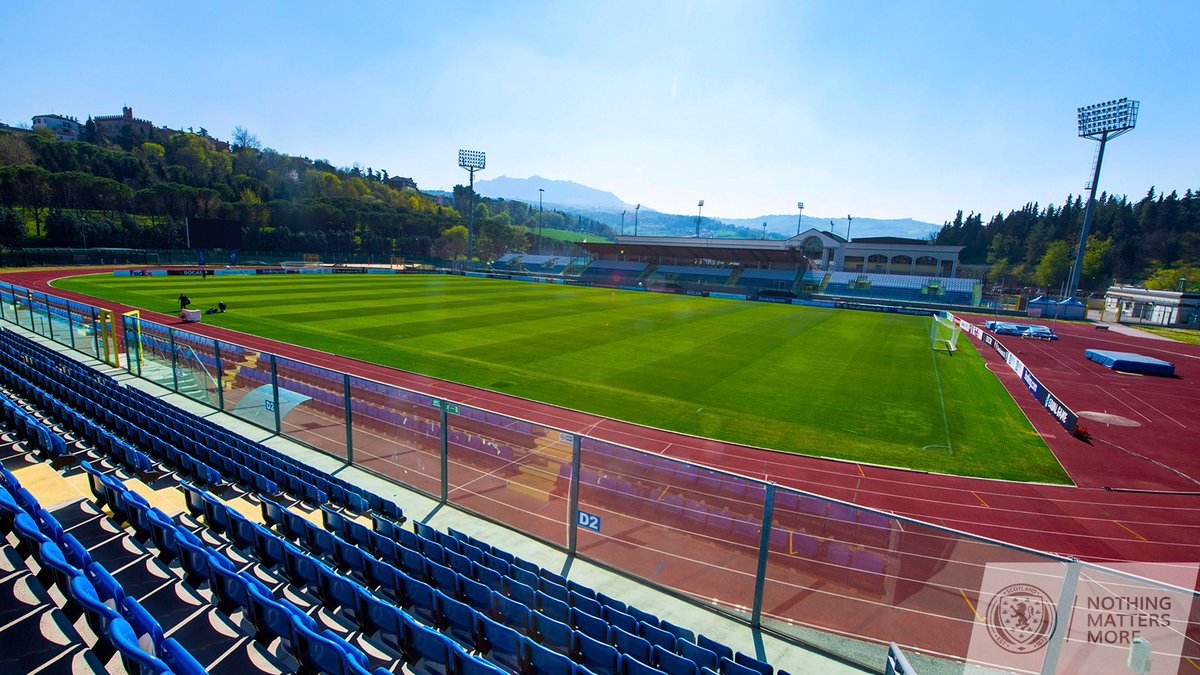 Anyway, back to the relevant content!
Top Youth Prospects
In the San Marino challenge a huge aspect of the save is how well you can develop young players for the national side so, before I take a look at how badly things are progressing with that team, I'll take a look at the top 6 prospects to have come through our academy. Why 6 I hear you ask? Well we haven't produced enough good players for a top ten list!
6. Donato Gamba
I could have kept this list at just five names but Gamba has something of a special place in my heart for some reason. He's essentially useless for the club side these days having only ever made three appearances for us in six seasons and creating one assist.
I don't even have a picture of him when he first emerged as a youth player as he was so mediocre when he emerged. He has however, always found a way to be useful as something of an emergency striker around the squad as he is dirt cheap and very loyal to the club. He fills the same role for the national side comfortably being the 4th best striker we have and being someone to throw on when we are totally out of ideas resulting in one goal in 15 caps so far. Despite all of this and having almost zero career prospects while he remains at the club he still lists me at the top of his favoured personnel list so I felt obliged to repay this love.
Real Life Equivalent: Fran Marcheda. Makes an impact from the bench very, very rarely but that's about it.
5. Andrea Casadei
When Casadei first emerged I was hopeful that he would be the first truly top class midfielder to emerge for San Marino. This hope was a little…….misplaced. I gave him some game time in Serie C after he had almost a year to develop and he was hopelessly out of his depth and I had to loan him out down to Serie D where he enjoyed some moderate success.
Comparing his current attributes with his first attributes just goes to show how little he has been able to kick on with only his physical attributes significantly developing. His lack of impact at club level is in direct contrast to his role for the national team as he plays an important role in the centre of the park where he is arguably our best player. (we desperately need some quality to emerge in this area if we want to kick on) He has started every game for the national side when available and has chipped in with some vital goals that helped us to wins over Andorra, Hungary and Moldova. Pretty much all of them were long rang bangers.
Real Life Equivalent: Nick Montgomery. Plenty of heart, scores rare wonder goals but never quite a top class player.
4. Nicola Stefanelli
At one stage Stefanelli looked like he would be challenging his name sake for the number 1 spot in this list (spoiler alert) but he has ultimately proved to be a little bit of a let down so far despite his improvement.
When he first emerged he looked to be the best striking option for San Marino with the potential to become a good Serie A player and his physical attributes have really turned into being pretty amazing however this isn't backed up by much elsewhere.
I did my absolute best to get him to develop in the first team and gave him a starting role for the club as we earned promotion from Serie C however he could only manage 5 goals in 31 games. He declined even more in Serie B before I opted to develop him more in Serie C using loan spells.
This had moderate success as he is far from a prolific goal scorer even at this level and he averages a goal every 5.2 games. At international level he serves a much better role in a side under the cosh much more often where his pace allows him to become a great weapon on the counter attack to serve as a great foil to Nanni's technical abilities. He was the second player to break Selva's goal scoring record and if I do another one of these lists in a few years he could easily be higher up.
Real Life Equivalent: Francis Jeffers (without the injuries). Lots of early promise but never quite reached his potential.
3. Leandro
Ahh Leandro. I can't deny you're shit and if it wasn't for the fact that you happen to be Sammarinese you would never have got near first team football. For some reason however, I just can't bring myself to loan you out or sell you. Physically he has turned into a solid player so he at least has some value when on the pitch but lets face it he's isn't anything special at all.
Standing at a lofty 6″3 and possessing absolutely no good technical attributes at all, he has somehow made almost 100 appearances for C.C San Marino and has contributed 4 goals and 5 assists to the team. To say it took him 40 games to get his first goal or assist, he has almost become prolific for us in the second half of his career. Pretty reliable for the national side as he has racked up 4 goals and is in danger of becoming another player to go past Andy Selva in goals! I also suspect he is the first part Brazilian to play for San Marino!
Real Life Equivalent: Trevor Sinclair. Plenty of effort and can play on either flank but much like Sinclair in the 2002 World Cup there should have been better options in that position as well as he did!
2. Lorenzo Bollini
A very recent addition to the footballing scene in San Marino but he holds a very worthy second place on this list. Coming through our academy in the 2024 season he was highly touted by my staff so I threw him straight into the team with him scoring once in his debut season.
As his development improved he began to develop into a regular starter in our Serie B promotion season and scored a number of crucial goals for us, including 3 winning goals around the 90th minute mark! We were fortunate to hang onto him during this year as Napoli had a transfer offer accepted for him only for the deal to eventually fall through! He's still only young but looks to have a high ceiling and will likely become the leading striker for the national side for a long time.
Real Life Equivalent: A young Wayne Rooney at Everton. All the potential in the world just got to hope he doesn't have his head turned after making an early impact.
1. Fabio Stefanelli
He just had to be number 1. From the first ever youth intake, somehow his development has kept pace almost perfectly with the growth of the club through the first 6 years of his career. Lets take a look at his growth over the years.
Standing at only 5″6 and with a jumping reach that started out at only 3, I was very reluctant to throw Fabio into adult football. Especially as a CB I felt he would be vulnerable to anything that came his way in the air but given that the national side has very little talent in this area of the pitch I gave him first team football as soon as he was available and he has had a hell of a career so far. Once he settled into the first team he has only missed a grand total of 26 league games and handful of national team games he is a Rolls Royce of a centre half. With over 200 career games already at the age of 22 he has a very slim chance of making it to the mythical 1000 career game mark (assuming he continues to have great luck with injuries) and already sits at 5th all time in national team caps.
He has consistently found a way to adapt his game to playing at a higher level year upon year whilst never quite being good enough to attract any attention in the transfer market which is quite an impressive talent to have in of itself. His ability to chip in with a steady stream of goals over the years is very much appreciated as well especially as most of these are headers from corners has turned him into something of a cult hero for the club and in my heart. He is a fitting number one on this list!
Real Life Equivalent: John Terry. A one club man (hopefully) and a rock in the heart of defence.
Other Academy Graduates
Naturally, when managing a 4th tier club with youth players predominantly coming from the worst footballing nation on Earth, there are a lot of underwhelming youth players coming through the ranks. Indeed, the fact that out of 6 entire youth intakes I can only speak about 6 of them in any depth speaks to just how many the majority of these player intakes have been.
Lets take a detailed look at each youth intake 4 years after the players arrived in the game just to see how the career prospects of these players fared.
Note, I've only included the first 5 years of intake players on this chart as its still too early to draw any solid conclusions from these players. A couple of notable bits jump out to me straight away from these youth intakes. Firstly of the 80 players I looked at only 12 of them have made even a single appearance for Cattolica Calcio San Marino which is understandable considering that the stature of the club has rapidly outgrown the development of our youth academy. Far more surprising is the fact that only 16 of these players have played for the national team such is the low quality of the graduates!
If you aren't an excel pervert then lets look at something even sexier…..graphs! Firstly, here is a pie chart of where our 80 players were playing (or not) just four years after graduating from our academy.
That's right, if you were lucky enough to come through the academy at Cattolica there is a 49% chance that after 4 years you would no longer be in football! Most of these football drop outs are a result of the truly awful 2020/1 and 2023/4 intakes but it is staggering! It's also fairly staggering that two youth intakes were so bad, the majority of players had retired after 4 years rather than dropping into Sammarinese football!
When you factor in the number of players who have dropped down into Sammarinese football then there is a 75% chance that you'll be playing in one of Europe's worst leagues or not at all. Not the best prospects…….it's probably miraculous that we've produced any competent players at all.
Enough covering the terrible players, here are the 12 players I'm currently tracking on my youth intake spreadsheet where players can be put in one of two categories, players who have made it into the first team and those who have not.
Currently F. Stefanelli leads the way in most categories except goals and international goals which will be dominated by Bollini in future I suspect!
Thanks again for reading and I hoped you enjoyed this deep dive into my time in charge of Cattolica Calcio San Marino. Next time round we will be looking at the…..not quite as glittering fortunes of the national side. Alex